Reduce Visual Stress & Digital Eye Strain
Our Anti-Blue Light Gaming Glasses are engineered to eliminate digital eye strain and recommended by doctors to protect your vision during computer and device usage.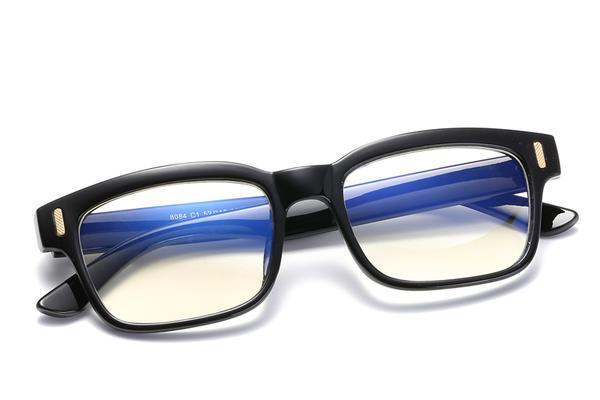 Why Choose Blue Light-Blocking Glasses?
The special lenses eliminate eye-strain and reduce headaches caused by scattering blue light. Your eyes don't have to work as hard to focus on that high-energy, short-wavelength spectrum.
You will be able to fall asleep faster, stay asleep throughout the night, and wake up feeling much better-rested. Filtering blue light helps regulate melatonin production and helps your body adjust back to its natural sleep rhythm.
Long term blue light exposure can lead to serious medical conditions such as macular degeneration. Rather than treating this condition later in life, it's far more beneficial to prevent it all together.
Our Gaming Glasses are used to:
✅ Block Blue Light
✅ Reduce Digital Eye Strain
✅ Prevent Dry Eyes
✅ Minimize Glare
✅ Help You Sleep Better
Our Clear Lenses vs. Popular Blue Light Filtering Software
IT'S TIME TO ELEVATE YOUR GAMING TO THE NEXT LEVEL!
Anti Blue Light Gaming Glasses in Canada
Enjoy playing games for hours but worried about getting a dry eye? Buy Anti Blue Light Gaming Glasses in Canada at Geccopax!
Available in 10 colors, these glasses are engineered to block 99% of the blue light from mobile and computer screens. Protect your eyes from strain, avoid headaches and dry eyes. With continuous use, you'll be able to fall asleep faster, stay asleep through the night, and wake up feeling fresh and rested.
Buy Anti Blue Light Gaming Glasses and Get 50% Off
It's better to protect your eyes before they need medical attention. Get 50% off on your purchase of high-quality anti-blue light glasses with anti-glare, and grab them at only US$29! Pay online via multiple payment options including VISA, MasterCard, American Express, and many more!
 We, at Geccopax, offer FREE SHIPPING and full refunds in case of any defects or delivery issues. For more details and queries, feel free to contact us at support@geccopax.com.